Our Barber Team
Randy Cheddesingh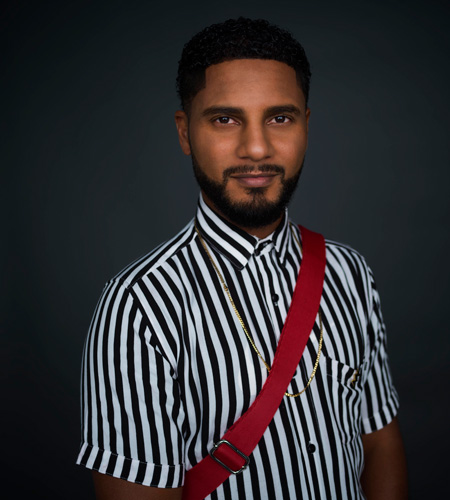 Randy Cheddesingh
Barber @Trendsetters Hair & Tattoo Lounge
My love for the hair industry started at a young age of 14. The first time my mother brought me to the barber shop I was in awe. I could not stop watching all the barbers and steps they were performing to create the cut. I grasped the concept of a fade that day and took my newly learned skill to my mom's basement. My first haircut was a hit and that's when my career started as a barber.
Today I am a barber and an owner of Trendsetters Hair & Tattoo Lounge in Mississauga. I have over 20 years of experience in barbering and have become extremely passionate about sharing my knowledge with other barbers in the field. I value education and believe we must always keep learning and growing which is why I always try to mentor my employees. I believe that we can all learn from one another, and become great, together.
With trends changing more frequently, haircuts have become more detailed. I would say this has become my area of expertise. I focus on clean blends and razor sharp outlines. I am also very versatile with different types of hair textures.
On my spare time, I enjoy hobbies that involve being creative including photography, mixing like a DJ and working out.
How long have you been in the industry?
I have been cutting professionally for 23 years.
What brought you to the industry?
I fell in love with hair on my first visit to the barbershop. I was so amazed with the transitions of the before and after. But, more importantly, the power the barber had how the client felt after the cut.
What are your strengths?
I have focused a lot on creating smooth fades that
fit the clients profile best.
Why BABYLISSPRO?
I see myself as a Trendsetter in the industry, and I feel that BabylissPRO is on the forefront for clipper technology. They not only function well, their design elements are astonishing.
What major achievement in the industry have you accomplished?
The biggest achievement that I have accomplished was being able to share my experiences and pass on my knowledge to other like-minded individuals either in a classroom setting or on stage.
Are you a salon owner? If yes, how long?
I am the owner of Trendsetters Hair & Tattoo Lounge. We have been open for 10 years