How-To / Tips and Tricks
Maty's Slicked Back Face Made Easy
September 17, 2018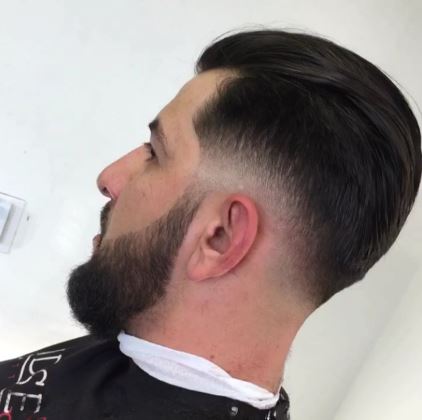 Hey everyone, it's @Cutsbymaty here to show you how to achieve one of the hottest trends for the holidays! This look is so versatile, because even when you remove your winter hat it will still look good... if not better! This is a classic style, with a new school twist, perfect for winter!
Tool Kit:
- BaBylissPRO® Volare clipper (FX811C)
- BaBylissPRO® "Rob the Original" outliner (FX765C)
- BaBylissPRO® RapidoTM hairdryer (BABF7000C)
1) Using the FX765C create your first #0 guideline around the head by going up to only the temple on the sides, and dipping down under the optical bone all the way around the head.
2) Remove the bulk and create your 2 inch "lanes" using the FX811C all the way open with no guard as your first lane, your #1 all the way open on your second lane, and then your #3 open all the way on your third lane. If you consistently achieved keeping your lanes at 2 inches each, your number 3 should end up around the parietal ridge on the sides, and just under the crown in the back.
3) Clipper over comb using your FX811C from the long hair at the top to blend into the #3 lane.
4) Use your #2 to blend the #3 open to the #1, open by opening the lever more when working closer to the top, and closing it as working down to the bottom.
5) Using your .5 guard blend out the #1 open level to the no guard open level by once again opening the clipper from the top, and closing as you reach the bottom.
6) To finish off the fade, start at the 0 guide line all the way closed clipper with no guard. Then work your way around by opening the clipper to each notch and moving up only one centimeter at a time.
7) Point-cut the top of the hair to about 4 or 5 inches in length by taking 90 degree sections straight up to create a very masculine squared off shape.
8) Using the RapidoTM, blow dry the hair straight back to get the classic slicked back look.
9) Finish off with the FX765C and outline all around the head as the client desires, including facial hair and then clean up the bottom of the neck.

By

Matyas Fekete
Trendsetters Hair & Tattoo Lounge
@Cutsbymaty